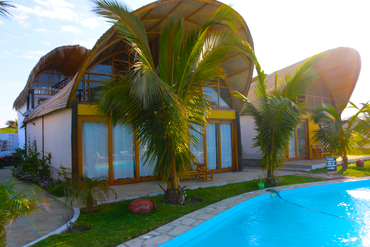 * High season dates are Apr 1st - 5th, July 26th - 31st, Dec 26th - Jan 10th
* High season prices increase and require a minimum stay of 3 days. New Years minimum stay is 5 days.
* Cancelations require 4 week notice prior to arrival. No exceptions.

Our 3 house are ajacent to the pool in a peacful, tropical garden.
Each of our houses can accommodate up to six people and includes:
Master bedroom with a queen bed and walk in closet
Second bedroom with two twin beds
Living room with sofa-bed
32" HDTV with cable
Mini Bar
Large private bathroom with deluxe showers & hot water
Private loft with ocean view balcony
Outdoor patio
WIFI
Continental breakfast included
The Kites Mancora Hotel strives to be the best boutique lodging in South America. The Hotel is centrally located in Mancora village, close to the best surfing and kitesurfing beached, as well as the bars, restaurants and nightlife of Mancora. Kites Mancora accomodations include rooms, houses, bungalows and dormitories for backpackers. Kites Mancora Resort has a fully stocked bar, full service bistro, and a great big pool to relax and enjoy all sunshine in. Kites Mancora Inn provides many services for the adventure seeking travelor, including Kiteboarding, Surf tours, Wave riding lessons, Kite downwinders, horseback riding, fishing, dune buggy rides and many more activities to keep you and your family or frineds busy. Come and enjoy the best that North Peru has to offer. Book a kitesurf tour or package with us, or rent a bungalow for your entire family. Northern Peru adventure and comfort at it's finest.